Corporate Design: Give your company a convincing identity.
As a product- and user iterface designer I support companies in realizing their visions and develop a uniform corporate design. A cleanly implemented corporate identity ensures recognition value and better customer loyalty.
How corporate design contributes to the success of your company
Your corporate design is the basis for the uniform appearance of your company both internally and externally. Professionally designed documents – from the website and letterhead to the company logo on the door – convey a competent impression to customers and business partners. A consistent corporate design creates trust, distinguishes you from your competitors, is memorable and thus strengthens your market position. At the same time, you increase your attractiveness as an employer. Furthermore, your corporate identity also has an internal effect: Existing design guidelines can make every day work processes much more efficient and it is easier for your employees to identify with your company. My competences in the area of corporate design include logo and graphic design, design of business cards and business papers as well as the creation of websites – all uniformly implemented in the sense of your corporate identity.
My services in the area of Corporate Design & Corporate Identity
More services on request. 
What should a good corporate design be like?
Distinguishing features such as color, shape and font form the basic criteria of a corporate design.
A representative corporate design is tailored to a company and therefore a "made-to-measure" product. It is an expression of the own corporate philosophy and not a self-realization of the designer.
Every company strives to consolidate its position in the market by setting itself apart from the competition. Accordingly, the external appearance should be unmistakable and memorable.
It is important that the corporate design is consistent at all levels, such as on a business card or on a website in order to maintain the recognition value and to be recognized as a closed system.
Color, form and font are matched to form a closed visual concept. This makes your corporate design look professional and inspires confidence.
Step by step implementation of your corporate design
The development steps serve as an overview and can be adapted according to the project.
Each project starts with a briefing to clarify the customer's wishes. This can be done either through a Skype meeting or face-to-face. But also a phone call or a simple description in text form (possibly with pictures) can be sufficient.
This process serves to analyze the company and its competitors step by step and identifies new potential. The focus is on the corporate philosophy, products, services and visions.
The basis for this is the definition of requirements for the corporate design. What needs to be considered primarily? This results in a creative process with the aim of generating ideas in the form of sketches which are then presented to the customer.
If a favorite from the creative phase is selected, the final design (e.g. for a logo) can be created with the specified requirements.
All print and digital media can be designed on the basis of the previously defined requirements for the corporate design. Further optimizations will follow.
Advantages of a corporate design
Of course there are many more advantages. Here are just some examples.
Differentiation from any competition
A unique corporate design creates a clear differentiation from any competition. This prevents confusion with other companies, their products and services. This strengthens and expands the own market position
More efficiency within the company
Costs are saved by a uniform corporate design, because, for example, not every communication medium or advertising measure has to be developed anew. Existing templates and forms based on the corporate design facilitate all marketing and sales activities. This saves time and costs.
Trust of potential customers and partners
Visual means can be used strategically to gain the trust of potential customers and business partners. Once trust has been established, products can be sold better and relationships with partners can be developed more easily. For this, a memorable corporate design plays a very important role.
More attractiveness as an employer
If a company is looking for qualified specialists or junior staff, a modern corporate design is indispensable, as the demands of young interested parties are growing. People want to work in a company they can identify themselves with.
Free trial to get to know each other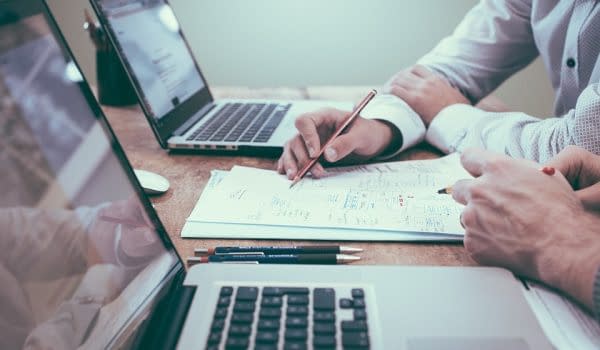 You would like to be supported in design, but you are not yet sure whether you will like my design proposals? I regularly offer a free test run to new customers to get to know me. Depending on the scope of the project, I will submit various design proposals so you can get a first impression of my work. If you like my suggestions, we will continue our cooperation. For you, this test run is completely free of charge and risk-free.
You can rely on me to do my best for your design – without any risk. Has my offer convinced you? Then you are welcome to contact me. I offer the free test run as long as I have available time capacities.
Recommending pays - for you!
You know someone who could benefit from my design support? Feel free to recommend me – it will pay off for you, too! For each successful recommendation, I will share up to 20 percent of my turnover with you as a thank you. Please contact me for more details.
Fast and without any obligation -
Contact me anytime!
Do you have any questions or would you like to talk about a project without any obligation? 
Please feel free to call me or contact me by email. I will answer your inquiry within one working day.